5 Tips for Living with Dentures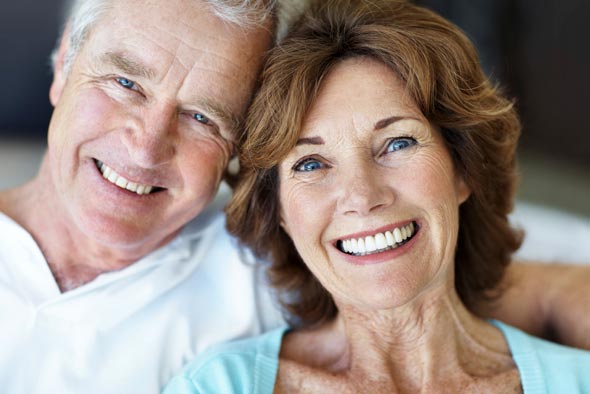 You may experience difficulty eating or speaking after full or partial dentures, depending on the level of tooth loss. Living with dentures takes some getting used to. But you've got this!
. That's why our dentist may recommend
Dentures are removable false teeth that give you a beautiful, functional smile. They can also help you restore your confidence.
Are you new to dentures? Here are our 5 tips for how to get used to your new appliance.
1. Don't Let Your Dentures Dry Out
When you're not wearing your dentures, submerge them in a glass of water. You may also use a denture cleaning solution.
Like natural teeth, you need to keep dentures wet to prevent fracturing. If you allow your full or partial dentures to dry out, they will crack and warp.
It's essential that you remove your dentures to sleep every night. That way, you're giving your gums a chance to rest.
2. Brush Your Dentures Twice a Day
Brush your dentures like you would your natural teeth. This means
twice a day to prevent plaque buildup. Otherwise, bacteria can build up on your dentures and give you bad breath.
3. Don't Forget to Brush Your Gums
Having missing teeth doesn't exempt you from getting gum disease. When you brush your full or partial dentures, make sure that you also take the time to gently brush your gums.
The soft toothbrush bristles are enough to stimulate your gums and keep them healthy. You also will be removing any plaque, bacteria, or food particles from your gum line. Since your dentures sit on top of your gums, it makes sense to keep them in good health.
4. Practice Speaking with Dentures
Don't be discouraged if you have a lisp when you first start wearing dentures. It will take some time to train the muscles in your mouth to speak around a new oral appliance.
Try reading out loud and making a list of words you have difficulty pronouncing. The more you practice talking with dentures, the sooner your lisp will disappear.
5. Know How to Correct Slipping Dentures
Dentures may slip when you make an abrupt movement, such as when sneezing, laughing, or smiling. When your dentures slip, we recommend gently biting down and swallowing.
The good thing about this trick is that it's subtle enough to use when you're out in public. If your dentures frequently slip, schedule an appointment with our dentist. They'll be able to ensure your dentures have the proper fit.
Bonus Tip: See a Dentist Every 6 Months
Your dentures will last longer when you practice good oral hygiene habits. This includes seeing our dentist at least every 6 months. During your appointment, we'll examine your dentures to determine their condition. You'll also receive a dental exam and teeth cleaning.
Request an Appointment With Us
Want to learn more about living with dentures? Check out our blog post on what you can expect during your first 30 days of wearing dentures.
Learning how to live with dentures takes time. But it'll get easier over time when you follow our tips.
Dr. Alexandra Dodds is a family dentist in Grand Rapids, MI. As such, we'd be more than happy to help you restore your smile after tooth loss. To request an appointment with Renew Family Dental, call (616) 245-3205.
This blog post has been updated.