Teeth Whitening Dentist | Grand Rapids, MI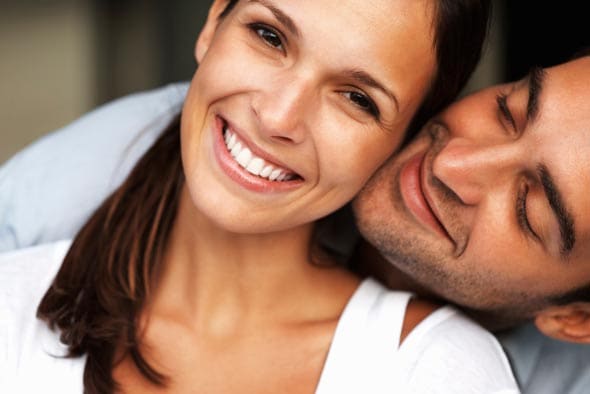 Have you not gotten the results you want with whitening toothpaste, strips, and over-the-counter trays? It may be time to schedule a teeth whitening appointment with our cosmetic dentist in Grand Rapids, Michigan.
Dr. Dodds will be able to whiten stained, dull, or discolored teeth so you can be confident with your radiant smile.
Benefits of Professional Teeth Whitening
Professional teeth whitening in our office is safe and effective. We will make custom bleaching trays so you can bleach your teeth in the privacy of your home on your schedule. Because the custom trays last many years, you will only need to purchase additional bleaching gel when you want to whiten and brighten your teeth.
Unlike over-the-counter products, getting your teeth whitened by a dentist will make your teeth become several shades whiter. Our products contain a higher percentage of whitener than anything you can purchase in a store.
Causes of Tooth Discoloration
Certain foods and beverages can stain teeth over time. For example, drinking coffee or tea on a regular basis can give you a dull smile. Teeth whitening in our office will only last so long if you have developed eating habits that stain your teeth.
If you can't live without coffee or tea, try reducing how much you drink. If your teeth are exposed to
on a regular basis, your enamel will eventually weaken and absorb stains easier.
If your diet isn't causing
, our dentist will look to see if you have a history of traumatic oral injuries or are on any medications that could affect tooth color. Too much fluoride in your diet (fluorosis) can also cause your enamel to look mottled.
Request an Appointment with Dr. Dodds
Dr. Alexandra Dodds is an experienced teeth whitening dentist in Grand Rapids, Michigan. She's also accepting new patients and would be more than happy to welcome you to our practice. To schedule an appointment, please call Renew Family Dental at (616) 245-3205. You may also fill out our online contact form and someone from our team will reach out to you soon.
Learn More About Cosmetic Dentistry