What is Cosmetic Dentistry?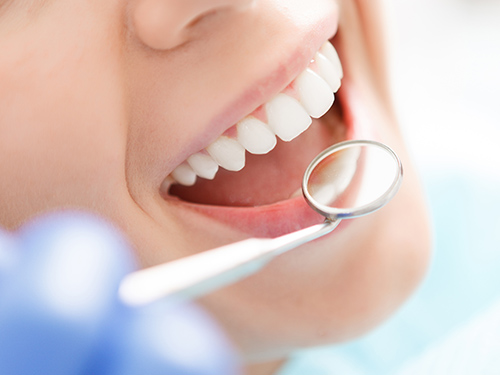 Have you ever smiled with your mouth closed? Do you ever feel self-conscious when you laugh? If so, you're not alone. A lot of our patients who seek cosmetic dentistry feel self-conscious about their smiles.
The good news is that you can schedule a consultation with our dentist to restore your smile and your confidence.
Here are some of the options you may discuss with your dentist.
Teeth Whitening
You may not need to look further than your coffee mug to discover how your teeth become dull or yellow over time.
Certain foods and drinks (like coffee) contribute to tooth discoloration. Fortunately, our dentist is able to make custom whitening trays to help you brighten your smile from the comfort of your own home.
Teeth whitening at home is not only convenient, but easy to maintain over time.
Once we create your teeth whitening tray, you'll only need to buy bleaching gel on occasion to maintain your white smile.
Ask our dentist if you're a candidate for professional teeth whitening.
Porcelain Veneers
A veneer is a wafer-thin porcelain shell we bond to the front of your tooth. Porcelain veneers are able to repair teeth with small chips, cracks, or stains.
We'll need to remove a small amount of enamel before bonding the veneers to the fronts of your teeth. That way, your veneers will look and feel natural.
To learn more, check out our blog post that explains the veneers procedure in more detail.
Invisalign®
As the name suggests,
are nearly invisible aligners that move teeth little by little into a straight smile.
If you've ever felt self-conscious about crooked teeth, ask your Invisalign dentist if you're a candidate for clear aligners.
For Invisalign to work, you must wear your aligners at least 20 to 22 hours a day.
Related: Pros and Cons of Invisalign Braces
Dental Bonding
Dental bonding can help you get the smile you've always wanted in one appointment.
Your dentist will use a tooth-colored putty to restore your tooth to its natural appearance. Many of our patients appreciate that teeth bonding can be done in one day.
Inlays & Onlays
A dental inlay or onlay is a good compromise between a filling and crown.
Our dentist wants to help you preserve as much natural tooth structure as possible, which is why we provide inlays and onlays to patients.
Unlike fillings that are applied directly to your teeth, your dentist will need to create a restoration that matches the natural color and shape of the tooth. This tooth restoration is called a dental inlay or onlay.
Snap-On Smile®
A
is an affordable smile makeover that gives you instant results.
Similar to a denture, a Snap-On Smile is an oral appliance you wear to give you the appearance of beautiful healthy teeth. The only difference is that the Snap-On Smile fits over your existing teeth so you can smile with confidence.
The Snap-On smile is made of durable dental resin so you can eat and drink while wearing it.
Learn About Your Options for Cosmetic Dentistry
Are you ready to take the next step in your journey to a healthier, more attractive smile? Check out our blog post on how cosmetic dentistry can change your life.
Our cosmetic dentist in Grand Rapids, MI, is ready to help you achieve your smile goals! To request a consultation, call Renew Family Dental at (616) 245-3205.
This blog post has been updated.