Full & Partial Dentures | Grand Rapids, MI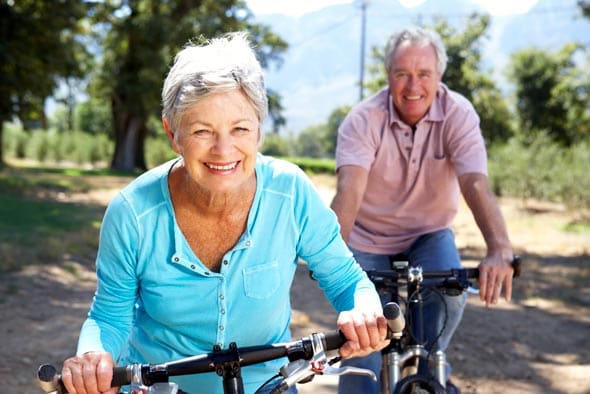 Dentures are essentially removable teeth that can help you retain your quality of life. While living with dentures takes some getting used to, it's worth being able to talk with ease and eating the foods you enjoy.
If you are interested in wearing dentures, we recommending scheduling a consultation with our Grand Rapids dentists.
Depending on how many missing teeth you have, you may have dentures for your entire mouth or only partial dentures.
Conventional Full Dentures
After your teeth have been extracted, you'll have to wait for your dentures to be ready and your gums to heal. If you opt for conventional dentures, you may have to wait several weeks before you can be fitted for dentures.
Immediate Full Dentures
If you're feeling self-conscious about people seeing you without teeth, we recommend asking our Grand Rapids family dentists about immediate full dentures. Like the name suggests, immediate dentures are ready for you to wear immediately after tooth extraction.
Before having your teeth removed, our dentists take measurements and has your dentures ready to go ahead of time. However, since the shape of your jaw bone will slightly change during the healing process, you'll need to come back to our office to have your dentures adjusted accordingly.
Partial Dentures
Removable partial dentures replace missing teeth using either a metal framework or a tissue colored plastic base that works in conjunction with the remaining teeth. The partial denture may have metal clasps or clear connectors that attach to your natural teeth.
Partial dentures can help restore the appearance of your smile by replacing missing teeth, but they may also help you improve your speech. If replacing back teeth partial dentures will make eating a much more pleasant experience.
Caring for Dentures
Never allow your dentures to dry out. Otherwise, they will fracture. To keep your dentures in good shape, always make sure they soak in a glass of water or denture cleanser when they're not in your mouth. You'll also want to make sure you brush your dentures twice a day to remove food particles and other debris.
Donald VanderLinde DDS and Alexandra Dodds DDS have dedicated their careers to providing patients with the highest level of dental care. If you are interested in learning more about full or partial dentures or any of our other restorative dental services, call our Grand Rapids family dentists at (616) 245-3205.