What are CEREC Same Day Crowns?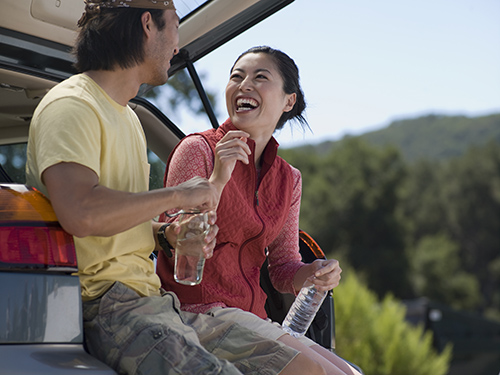 Our dentist uses CEREC technology to place your tooth crown in one appointment. Whether you need to cover a tooth after a root canal or repair a serious fracture, you won't have to wait weeks with an uncomfortable temporary crown. We're always looking to use the latest technology to improve your experience as a patient. Continue reading to learn about the benefits of CEREC same day crowns.
If you have any questions after reading the article, please feel free to contact us and we'll get back to you as soon as possible.
Done in One Appointment
At other offices, crowns need to be created in an off-site dental lab, a process that can take weeks to accomplish. You would need to visit the dentist's office to have impressions taken of your teeth, then return later for a second appointment to attach the finished crown.
We understand that you have a busy life, which is why we use CEREC to create and place your dental crown in one appointment. A CEREC crown is just as durable as one made in an off-site lab. The only difference is that you don't have to wait weeks for your .
No Temporary Crown
In the past, a temporary crown was used to protect your tooth while you were waiting for your permanent dental crown to be made in an off-site lab. Today, we're able to create dental crowns right in our office so you don't have to deal with the hassle of a temporary crown.
Have you ever had a temporary crown before? If so, you know that they can fall out or just be plain uncomfortable when you bite together. A temporary crown has a weak bond to your tooth so it can be removed later when your permanent crown comes back from the lab. For this reason, it's not uncommon for a temporary crown to fall out between appointments.
Fortunately, you don't have to worry about wearing a temporary crown when you schedule an appointment with our same day dentist. We can create and place your
in one appointment, eliminating the need for a temporary tooth cover.
Accurate Digital Impressions
Do you have a high gag reflex? If so, your dentist may recommend a CEREC crown. Instead of pressing trays filled with pink putty against the roof of your mouth, we use a slim camera wand called the CEREC Omnicam to take pictures of your teeth. Not only is this great for patients with high gag reflex, but it's also highly precise.
Since the CEREC Omnicam creates a virtual model of your teeth, the dental crown will fit that much better. Our dentist uses this virtual model to design the shape, fit, and color of your same day crown. The digital impressions we take with CEREC as so precise that you can count on your crown fitting comfortably over your tooth.
Comfortable Fit
A CEREC dental crown will fit comfortably over your tooth because it was created with highly precise digital impressions. In the past, dentists used trays filled with pink putty to take dental impressions, which sometimes created slight errors in the mold used to create your permanent tooth crown.
Since our dental impressions are digital, you don't have to worry about your same day crown not fitting correctly. A CEREC crown fits perfectly over your tooth so you can chew without pain and smile with confidence.
Ready to Make Your Appointment?
Our dentist is dedicated to helping you maintain a beautiful healthy smile. To request your appointment with our Grand Rapids same day dentist, call Renew Family Dental at (616) 245-3205.